Free Technical Downloads
M257 Data Sheet
M257 Codebook
Product Overview
The M257 is a medium frame sized, hydraulic bushing gear motor with high pressure capabilities.
The M257 series gear motor is built from cast iron ensuring a strong and long lasting product, which can stand the most robust applications. Single & multiple units are available as per your requirements.
The pressure loaded wear plates of the motor, provides you with a high efficient product.
A wide range of configurable mounting, shaft and porting options are available to suit your unique requirements.
Compatible with Mineral Oil, Water Glycol, Invert Emulsion & Fire Resistant fluids.
Spare parts available from stock, such as seal kits, flanges, shafts and individual motor sections enabling a fast turnaround for you if required.
Our Service to you
We machine, build from stock and test the M257 gear motoron site, to ensure the highest quality and a workable product is delivered to you. The M257 gear motor also comes with a 12 month warranty.
In the event your product breaks down in the first 12 months, please CONTACT US so we can discuss the best option for you.
In the event of an emergency or you have a machine breakdown; we can supply this product to you with a 24 / 48 turnaround.
Common Applications
Customers of ours have used this gear motor in applications such as:
But can be applied to a wide range of mobile machinery within a variety of industries.
ATEX Information
The M257 can be supplied as an ATEX gear motor if required. ATEX Group I & II approval is required, if the product will be used in potentially explosive atmospheres.
ATEX gear motors are ideally suited for applications in the mining, oil & gas industry.
Mounting, Drive Shaft, Porting Options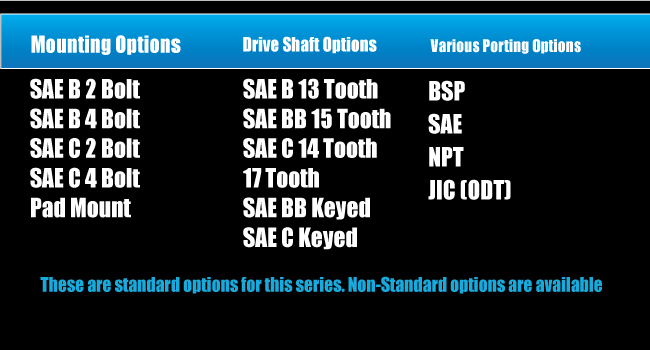 Product Coding Example

Pump Performance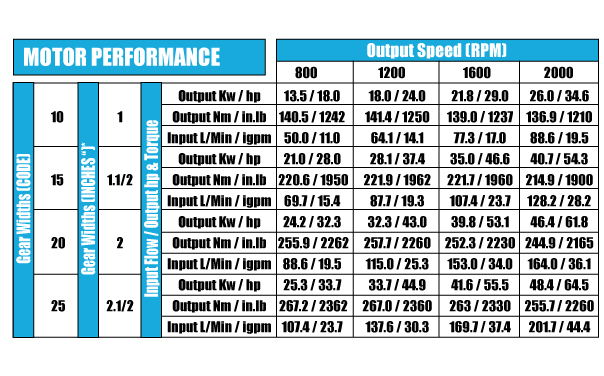 Recommended Operating Conditions
Fluid viscosity, normal operating conditions 9 - 220 cst.
Fluid temperature should not exceed 82 deg C for mineral oil or 57 deg. C for water glycol.
Fluid cleanliness, 10 micron filter with Beta 200 rating is recommended.
Inlet pressure; for best operation with mineral oil, pressure should not exceed minus 0.237 BAR (7 in HG) or with water glycol, minus 0.101 BAR (3 in HG)
Weights & Dimensions